Support Our Troops
Support Our Troops
Military Support Programs
MAAF is dedicated to connecting the civilian and military community. We build community primarily through direct interaction and fellowship among our members. We also educate the military community in general to build a more warm and welcoming environment for our members and other nontheists in the military. The easiest way to interact with service members is to write them directly. Our Any Atheist in a Foxhole program allows visitors to write letters to MAAF members through a simple online form (see below). For those of you able, consider a care package donation. MAAF is also seeking out POCs to represent MAAF to local enlistment processing stations (MEPS). MAAF sends care packages to personnel overseas, including food, gloves, juice mix, books, and materials of interest.
Members of MAAF
can sign up to receive this support. MAAF forwards these packages all over the world to deployed service members in need.
Care Package Donation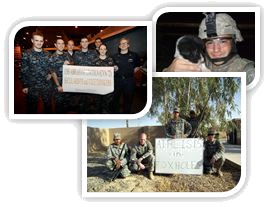 For any donation to MAAF of $45 you can support MAAF's efforts to prepare and send  care packages deployed service members. Service members overseas can
sign up at any time
to receive packages. Packages include magazines, food items, toiletries, puzzles and other items according to service member. The
Richard Dawkins Foundation for Reason & Science
has provided support in the past. You can fill out the Any Atheist in a Foxhole letter below. Groups interested in sending packages can
contact MAAF
. Materials or thank-you notes may be sent to MAAF at 107 S West St PMB 712, Alexandria, VA 22314  *** To avoid unneeded or unusable materials, please be sure to verify your list before sending. ***
Military Enlistment Processing Station (MEPS) outreach
View full story on MEPS program in Louisville
An anonymous donor in the Louisville area has identified and funded a new MAAF program for outreach to Military Enlistement Processing Stations (MEPS). MEPS are the first official military activity for service members. Previously, Gideons and other organizations have been given special access to deploying recruits. The ACLU has ended this practice creating a more even playing field. These new regulations provide for outside (non-military) organizations to provide information in the waiting room for deploying members. In order to do this, MAAF will need a local representative to step up as a Point of Contact in the area to monitor and place the materials. It should be noted that chaplains at MEPS have no additional restrictions on religious outreach to recruits. Chaplains are expected to be neutral and support all service members. This provides a special challenge for MEPS, which have essentially no permanent staff to support. It would be more appropriate for religious materials, and equivalent alternatives like humanism, to be restricted to the chaplains office. That would require of course that chaplains understand and support atheists and humanists. MAAF is currently reaching out to the following local MEPS stations
Read or click the map below for stations in your area.
Contact MAAF
to help as a point of contact or sponsoring donor.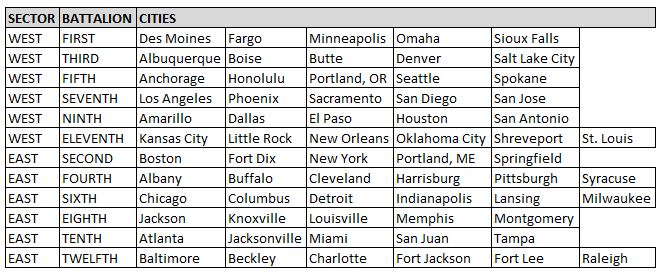 To Any Atheist in a Foxhole
MAAF members are serving throughout the world and appreciate your support. MAAF will help to connect you. Simply write your letter here and MAAF will send it to a service member. Those serving in combat areas get first priority, but with enough letters, we hope to send your support to all of our members. We invite letters from anyone and you may provide whatever information or message you wish. To make this program work, MAAF has a few procedural controls. Anything submitted to MAAF may be sent to MAAF members in conjunction with this program. Make sure to include your contact info and name if you want a response. MAAF takes no responsibility for responses you may receive related to your submission. The content of your message may be edited at the discretion of MAAF. MAAF may not provide any acknowledgment or notification of the use or your submission. Letters may also be sent directly to MAAF at the following address: Military Association of Atheists & Freethinkers 888 16th St NW Ste 800 Washington, DC 20006