AHA Speaker Annabelle Gurwitch Talks About Family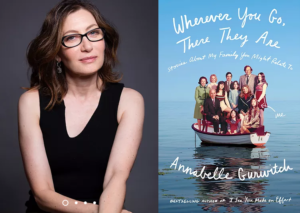 Fellow MAAF Warriors,
I had the distinct honor of meeting best selling author, comedian, TV personality and a huge MAAF advocate, Annabelle Gurwitch, at her book signing, "Where You Go, There They Are; Stories About My Family You Might Relate to" in D.C. on April 26th. She spent nearly half of her presentation applauding the efforts of MAAF and the issues we care about.
You can meet her next month during her keynote speech at the American Humanist Association national conference in Charleston, SC.
By MAAF Board Member Cody Heaps
I just finished her book and found it laugh-out-loud funny. I related to the stories and lessons and witty perspectives in so many ways. She is another bright Atheist, Humanist, just finding her way through the religiosity and political complexities that surrounds us all.
In the chapter entitled, "and they shall enter singing the songs of mumford and sons," page 259 she relates an experience wherein she met some MAAF service project volunteers preparing care packages for our members serving in combat areas. Allen, USAF Vietnam veteran, touched Annabelle with his heartfelt and sincere letters to our members. She related to the isolation and marginalization due to lack of faith so many of us face — a moving chapter we can all relate to.
I encourage you to meet her in person at any of the below listed book signing venues. I promise you will be uplifted, encouraged, and inspired as she leaves smiles and laughter in her wake.
Until you meet her, she's provided some quotes here for MAAF to read:
In my latest collection of essays I'm writing stories that are about  finding your tribe. Since the day I volunteered to pack holiday gifts for MAAF members and I became aware of the community, I've wanted to help spread the word and support your organization. As a fellow humanist, I believe we don't need a diety to come together to form community and provide both emotional support and and an outlet for families and service. In this book, I write about my family of origin and the families I've joined by accident or on purpose, how I ditched magical thinking, and how I believe we can strive for a meaningful life in the random universe. I invite you to read the book, and I hope it will give you lots of laughs, some provocative thought, and you'll let me know what you think.

I want to express my thanks to those of you who've spoken to me over the last two years for my articles about MAAF in The Los Angeles Times and this book. I'll be joining Richard Dawkins on the road for his North American Tour to keep spreading the word.

One more funny note: I tend to think that my life is unaffected by publicly identifying as an atheist. However, I ran into a review on Amazon of one of my books. The writer says, "if Annabelle Gurwitch believed in God she wouldn't be so bitter." I don't think I'm bitter, for the record, I am a skeptic, which is really different. I have to laugh, if I believed in God I'd be bitter because: Climate Change, and the refugee crises and terrorism… I could go on and on! If you enjoy the book and want to be so kind as to leave a review at Amazon, that would be, well, not a miracle, because I don't believe in that, but awfully nice.

In solidarity and with warmest regards,
Annabelle Gurwitch