Offutt Christmas In Advocacy and Celebration
Tom Gray near Offutt Air Force Base continues excellent work building a strong community integrated with the local military installation. His group celebrated with a display at the Nebraska Capitol. This was alongside other religious displays, allowing for a joint holiday celebration available to all. He also sends praise to Offutt AFB leadership who quickly and appropriately responded to concerns about a speak who advocated against military policy. He shows how a strong community can prevent church-state violations at the lowest level, all the while maintaining a positive atmosphere.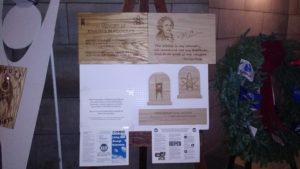 Gray and Offutt Humanists chose to include a memorial for atheists in foxholes as well as a Happy Human, an inspirational quote by Thomas Paine, and MAAF reading materials. The display has been erected  for several years alongside religious displays. A nativity scene will be posted and a secular veterans group displayed a wreath (pictured above).
In a good story about issue resolution, Gray published a news release detailing a recent objection lodged with base leadership. This prevented a visit by a pastor who advocated against military policy and Constitutional law. The press release lays out positive and negative positions the command quickly responded to. Restriction of speaking is a drastic step and should be taken only in an instance like this where positions are so directly opposed to military policy.
Gray says, "Chaplains I worked with, both in garrison and while deployed, supported all soldiers regardless of the soldiers' particular beliefs or traditions. They helped my soldiers through tough times."

Concerns about stated positions of the pastor and church:

"Our church will not rest or be satisfied until all human authority submits to the Lord Jesus Christ…"
a Muslim or an atheist should not be able to take the oath of office with any degree of integrity
Kayser confirmed to TPM that he believed in reinstating Biblical punishments for homosexuals — including the death penalty
Statements by Gray, Offutt Humanists, and MAAF are private, independent and unaffiliated with any government agency.