Military Atheists Honoring National Day of Reason
From South Carolina to Hawaii and right in the center of the country in Colorado, foxhole atheists are taking action to improve the world. The call to arms of the New Atheists has caused many atheists, humanists, and other nontheists to stand up not necessarily against religion but for service and community. As nontheists come together, we see our humanist communities gravitate away from intellectual and advocacy activities and toward activities that connect with the community and give back to our fellow citizens. The trend is the same for the military.

The National Day of Reason [server issues May 5 – fix in progress], May 7th this year, is the clearest expression of that rotation from advocacy to service among nontheists. The National Day of Reason is always held on the National Day of Prayer which implies an advocacy or anti-religious call to arms. But in practice and in the spirit of the event, events on the Day of Reason are not advocacy but instead service events intended to give back to the community, like blood drives, community cleanup events, and homeless support.
MASH Hawaii will be heading out to support the DoD Marrow Donor Registry, adding to more than 800,000 people the program has already connected with to provide needed marrow to treat blood cancer and other fatal diseases. There is a full day of events for Offutt Humanists, one of the most active new MAAF groups, has a full day of events planned from 7AM breakfast to evening signing of city and state proclamations in support of the National Day of Reason. Offutt Humanists is also planning ahead with a table scheduled at the Heartland Humanist conference in August. This sort of community connection and outreach forms the basis for cooperative service activities.
I was recently able to visit The Secular Hub in Denver, a thriving community dedicated very much to service. They recently received official recognition from the city for their many community service events.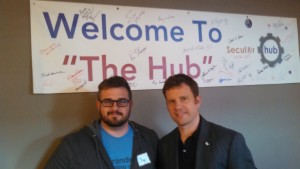 I also met in person with Jay Knight (above), a veteran who rode across the country in honor of a fallen comrade Lance Corporal Johnny Strong and the Child's Play charity. The Military Association of Atheists & Freethinkers and the Travis Manion Foundation were primary sponsors of the ride. Jay is now planning homeless charitable outreach in Denver.
Several other groups are starting up and still looking for enough members to organize service activities. At Marine Corps Air Station Cherry Point and Camp Lejeune in North Carolina, Parris Island and Naval Air Station Beaufort, South Carolina, and March Air Reserve Base in California, local leaders are reaching out for new connections. As the community grows, there are more people secure enough to reach out for community service. If you're interested, contact them directly or contact through MAAF.
At March Air Reserve Base, Tech Sergeant Rich Silva was able to offer invocation for a humanist officer during his promotion to Major. Because this was an optional personal recognition event, it's fitting to have a personal expression like a humanist invocation, just as it would be appropriate to add a Christian prayer to an optional personal recognition event. And just as the Day of Prayer offers an opportunity for religious folks to express themselves in prayer, the Day of Reason allows humanists and other nontheists to express our values and beliefs in a positive way. Tech Sergeant Silva was able to express these values in his invocation (excerpted below):
"Look to your neighbor to your right and to your left and recognize that we are all here, sharing this experience as human beings. And it is in that nature that we can all come together, regardless of our religious belief, and be with one another as we celebrate this promotion"