Las Vegas Veterans Rally Around Equality
It may have been tax day around the country but the news in Las Vegas was that Wells Fargo discriminates. Local veteran F-16 pilot and MAAF member John Whiteside led protests against discrimination at the local bank. MAAF President Jason Torpy was in attendance along with August Brunsman of the Secular Student Alliance, Dave Silverman of American Atheists, Kelly Damerow of the Secular Coalition for America, and Johnny Monsarrat of the Secular Policy Institute.
MAAF members gathered Saturday for dinner in Las Vegas. Hali Scher, currently stationed at Nellis Air Force Base and organizer for MAAF Las Vegas joined Raul Martinez, organizer for Humanists and Atheists of Las Vegas, to present local and national events to support the local military community. Everyone was excited to attend a presentation the following day by Rob Boston of Americans United for Separation of Church & State, an April 26th visit by United Coalition of Reason Coordinator Jason Heap, and the American Humanist Association Convention in Denver.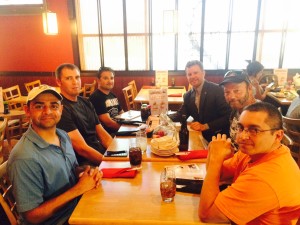 The protests against Wells Fargo related to the denial by a Wells Fargo employee of notary services allegedly due to religious discrimination. The Church of Bacon is a recognized nontheist church that solemnizes weddings and advocates for values of equal rights and church-state separation. The Wells Fargo employee certified to provide notary services denied services, but an employee at another branch recognized the error and later provided the notary service. Whiteside requested an apology and a commitment to include atheophobia and secularphobia in Wells Fargo equal opportunity training. Despite claims to oppose discrimination, Wells Fargo continues to refuse these simple requests. Some have claimed that this isn't worth the protest or that atheophobia and secularphobia are not problems in American society, but one need only see comments on the floor of Congress just last month by representative Sam Johnson of Texas. These comments show atheists used as a bogey man to raise money and to enforce Christianity through our government. This is a real problem that needs to be opposed.
In 2013, the U.S. Air Force Academy made the phrase "so help me God" optional in the oath each cadet takes. And why did they do this? Because of one radical atheist group's demands!  Let me be clear: Americans have the freedom of religion – but not freedom from religion.
Johnson's outrage is directed at the option not to take a religious oath. He is advocating for a United States where cadets and military personnel are required to swear to his God, and he is saying atheists to blame for opposing his theocratic agenda. The tactic is clear: Fabricate a problem, blame it on atheists, collect money from scared Christian Nation evangelicals, and then pass legislation to disenfranchise non-Christians. We can't simply stand aside and let our rights be trampled.
Click for local news video of protest