Navy Chief of Chaplains Reinforces Pluralism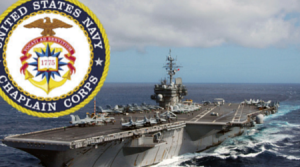 Update: Local command Response letter added t the Chief's response below.
The Navy has re-affirmed pluralism in the wake of one chaplain who was dismissed for relying exclusively on "biblical" counseling. Two weeks ago, Liberty Institute and other Christian privilege advocacy organizations told the story of Chaplain Modder, a Navy chaplain who is pending dismissal from the Navy. Liberty Institute gathered glowing reports about his performance to give the impression of an unfair dismissal. They also admitted he only wants to preach the Bible regardless what effects that may have on non-Christians, Christians who don't share his beliefs about the Bible, or the effectiveness of his chaplaincy. The Navy found his position inconsistent with his further service.
After legal challenge from LCDR Modder's counsel, the local commander responded to the religious discrimination claim by confirming that the chaplain had free exercise of religion but not free rein to disparage those under his care:
"I find that your ability to express your religious beliefs during pastoral counseling has not been restricted… the decision to relieve you from your duties is based on your failure … to comfort and counsel in a manner that was respectful."
The local command responded only to a request for religious accommodation and not specifically to the Detachment For Cause, which is handled through a separate command. In a follow-up letter to all chaplains, Admiral Kibben, Chief of Navy Chaplains, admirably reinforced pluralism in the context of chaplaincy ministry.
"At commissioning, we each agreed to serve in this pluralistic environment and to treat each person with dignity, respect, and compassion, irrespective of differences in religious beliefs."
Admiral Kibben also acknowledged her responsibilities to uphold the National Defense Authorization Act with respect to chaplain consciences and her desire to protect the religious ministries and personal faiths of those she leads. To a great extent, the letter simply restated well-known Chaplain Corps policy. But with respect to this situation, the letter gave no comfort to those chaplains wishing to exploit their chaplaincy for personal evangelism of vulnerable military personnel under their care.
Tom Carpenter, Co-Chair of the Forum on the Military Chaplaincy, a group of former chaplains and lawyers advocating for diversity in the military chaplaincy, had this to say:
As Chaplain Kibben points out in her letter to the Corps, when chaplains are commissioned as Naval Officers they agree to work in a pluralistic environment.  They are duty bound to treat each sailor, regardless of the sailor's religious belief or non belief, with dignity, respect and compassion. This means that if any chaplain can not provide counsel because they believe doing so would violate the tenets of their faith, or the guidance of their endorsers, they are required to find a chaplain who can fulfill this need. We are pleased that the position taken by the Forum on this matter is consistent with the guidance and thoughts of the Chief.
In a review of legal documents related to the issue, MAAF reported, Liberty Institute and the Navy agreed that he was committed exclusively to his own perspective on "biblical" counseling. That makes him an evangelist in uniform not a chaplain. The Liberty Institute legal challenge affirmed, "Chaplain Modder … is compelled by his faith to answer from a biblical worldview." and the Detachment Letter from the Navy explained the reasoning for the dismissal was that, "[he] was unable to provide counseling and attend to personal and relational needs outside of a specific faith group context." Many groups are also outraged at his "biblical" shaming of gays and women, but the core issues seems to be failure to customize his chaplaincy to the needs of those he serves. If a chaplain chooses to serve himself and his beliefs rather than the Navy, then that is inconsistent with his professional duties as a Navy Chaplain.