MAAF Gets the Guidestar Gold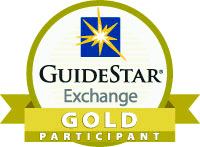 The Military Association of Atheists & Freethinkers Has Reached the GuideStar Exchange Gold Participation Level as a Demonstration of Its Commitment to Transparency
Washington, D.C. – The Military Association of Atheists & Freethinkers (MAAF) today received the GuideStar Exchange Gold participation level, a leading symbol of transparency and accountability provided by GuideStar USA, Inc., the premier source of nonprofit information. This level demonstrates MAAF 's deep commitment to nonprofit transparency and accountability.
"We have worked hard to showcase the progress of our mission, and our long-held belief in being transparent about our work, to our constituents," said MAAF President, Jason Torpy. "As a GuideStar Exchange participant, we are able to share a wealth of up-to-date information about our work to our supporters and GuideStar's immense online audience of nonprofits, grantmakers, individual donors, and the media."
In order to be awarded the GuideStar Exchange logo, MAAF completed every required field of the nonprofit report page on www.guidestar.org for the Gold level of participation. This indicates MAAF's commitment to administrative accountability and transparency, and to constituents and donors alike. The report provides current information
"I encourage you to check out our profile on GuideStar to see what we're all about," added Jason Torpy. "This is the next step in MAAF's effort to provide clear communication and support to our member base. We are engaged in exciting initiatives, and we are thrilled to have another platform for communicating our advancement and progress."
The GuideStar Exchange is an initiative designed to connect nonprofits with current and potential supporters. With millions of people coming to GuideStar to learn more about nonprofit organizations, the GuideStar Exchange allows nonprofits to share a wealth of up-to-date information with GuideStar's many audiences. Becoming a GuideStar Exchange participant is free of charge. To join, organizations need to update their report pages, completing all required fields for participation. The GuideStar Exchange level logos, acknowledged as symbols of transparency in the nonprofit sector, are displayed on all Exchange participants' nonprofit reports.

Did you know that you are able to write and post reviews of MAAF? Great Nonprofits is a platform for reviewing nonprofit organizations.   The reviews and ratings are posted by people who have been touched by a nonprofit and want to share their story about it.  Volunteers, donors, members, and those who have benefitted from the services and outreach provided by the nonprofit can leave reviews talking about their experiences with that nonprofit.  Having these reviews enables new people unfamiliar with MAAF to learn about the positive outreach and resources we provide directly from the people we have helped.  Please take a moment to leave us a review by visiting MAAF's Great Nonprofits Page to tell the world how MAAF has impacted or helped you.  We hope that our donors and care package recipients will also come forward and leave a review talking about why they donate and how receiving the packages may have helped them during deployments.