Review: Coming Out Atheist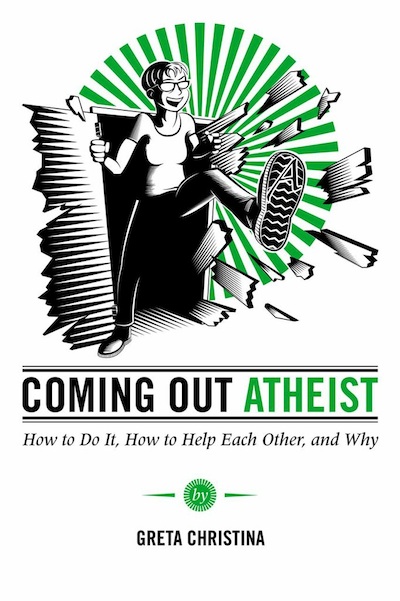 Coming Out Atheist is a new book of guidance and stories that show the challenges of being atheist in America. Our challenges are not nearly those of gays in the 1970s or African Americans in the 1940s, or of atheists today in Saudi Arabia, the Philippines, or elsewhere around the world. We are, however, like those communities, struggling for civil equality and cultural acceptance. Greta Christina has written Coming Out Atheist: How to Do It, How to Help Each Other, and Why.
A young Hospital Corpsman in the Navy tells of a training instructor grilling him in front of a class: "I was asked to explain why we were here if there was no god, and on, and on. The longer the questioning went on the more mocking her tone and the more confrontational she became." The story continues to show how his courage in the face of harassment inspired others.
Greta Christina is fond of saying "don't talk about us without us." She is normally talking about the queer community which is sometimes misrepresented. But she followed her own advice with this book when talking about the military community. She reached out to many atheists in foxholes to fill a section dedicated to the special challenges facing military personnel. She reached out to MAAF for questions and reviewed our atheists in foxholes list. She came out with a good understanding of the situation:
"Your commanding officers have a lot more leeway than an average boss would to enforce that discipline. You do have a lot of legal protection—but you may have to fight hard to actually benefit from it. And if you do fight that fight, you'll be doing it in a culture that really does not want people to rock the boat… come out anyway. It'll make it easier for yourself, and it'll make it easier for others."
Coming Out Atheist follows in the recent tradition of empowering books for atheists, including Hemant Mehta's Young Atheist's Survival Guide and David Niose's Nonbeliever Nation. Ancient Greeks valued reason in the same way humanists do today and modern Ethical Culture and Humanism arose at the end of the 19th Century. Less than 10 years ago, Sam Harris, Richard Dawkins, Daniel Dennett, and the late Christopher Hitchens gave atheists a voice. Since that time, nontheists have grown as a diversity community and become more successful not just having a voice to be heard but moving towards demographic and cultural acceptance in America. But many of today's atheists and humanists need mentorship to come out. As individual Americans see atheism in the national dialogue, they need to be reminded that atheists are all around them and the only way to do that is for atheists to stand up to be recognized as co-workers, family members, military team members, friends, and neighbors.
Greta Christina also recommends the Military Religious Freedom Foundation as well as local groups of the MAAF network including Military Atheists & Secular Humanists groups. By pointing at these supportive organizations, she expands support from the book to the real world. She by no means limits herself to the military. She starts with why to come out atheist (improving your life, helping others, and improving the world), tells the stories of other 20 other groups (students, clergy, parents, etc), and how to help others come out. These other stories will also help military personnel to understand their situation and to find not just the courage but the best practices to come out.