MASH Ft Bragg Dogwood Festival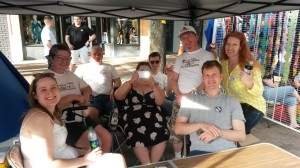 Fayetteville, North Carolina Dogwood Festival runs every spring and provides an opportunity for the community around Ft Bragg to interact. Military Atheists & Secular Humanists at Ft Bragg is one of the longest-running affiliates of the MAAF Network and set up a booth for this year's festival on April 26th and 27th. Brenda and Paul Germain are the current organizers of the local group and worked with MAAF for nonprofit rates and materials. About 12 different volunteers came over the course of the two days with great facilities, energy, and materials for the local community.
Hundreds of local people came by the table. Most visitors were connected to Ft Bragg, home of the Army's 82nd Airborne Division and Special Forces, and other key deployable units. US Congressman David Price (D-NC 4th District) visited the festival and stopped at our table as well.
One teen dropped by after his father attempted to discourage him. Table volunteer Ian tells the story. Many other parents brought their children to the booth and were excited to hear about the local Camp Quest secular kids camp.

Festival Table
Volunteers had a great time as well. Meeting others of like mind makes a big difference. One member told the story of how the chaplains at Ft Bragg turned him away. Connecting with MASH Ft Bragg made all the difference to help him integrate with others. Another volunteer who declined to be interviewed had a similar experience. He struggled with depression after having doubts about his childhood religion. Being able to connect with MASH Ft Bragg helped him to rediscover meaning in the context of his new world view. Another volunteer and former leader of the group, Jasmyn Reed, is still leading through charity. She tells the story of her hair donation to St Baldrick's Childhood Cancer Foundation.
A troupe of street preachers was also at the festival, but fortunately they did not stop by the table. We all successfully resisted the urge to participate. However, Berea Baptist Church had a booth near ours and we had the opportunity for a few conversations including a joint lunch.Not everything was perfect. One religious passer-by stormed off when one of us referred to televangelist Ravi Zacharias as a televangelist.