Atheist Marine Honors Fallen Friend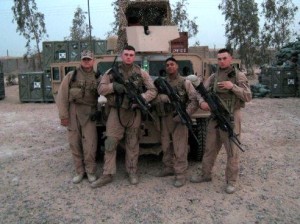 As service members and veterans of the military, we have all taken a good, hard look at the person we are inside and recognized a call to duty. Many of us completed enlistments and commissions, and returned home safely, none the worse for wear. We conceptualize what it would mean to not come back, to lose friends or loved ones in combat, or to return home wounded and forever changed. But we all have a deep, abiding understanding that not all of our brothers and sisters return, and their loss is a hurt for us all.
MAAF member Jay Knight came home from deployment a changed man; he lost his friend, brother in arms, and fellow Marine, Lance Corporal Johnny Strong, to an enemy sniper. There are many roads to recovery, none of them are easy, and never immediate. Blame, self-recriminations, and survivors' guilt are often overwhelming and the process of healing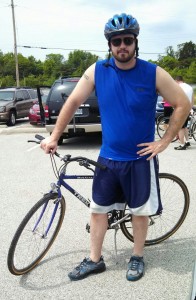 requires a positive outlet.
Strong's outlet would have been his love of videogames. He had talked of one day becoming a video game programmer, and developing his own games. As an avid gamer, he was never far from electronic entertainment. As an atheist, Knight wanted to find a way that would help him cope with the loss of his friend in a way that would allow his friend's memory to live on in a way that would be lasting and meaningful to many. To that end, Knight found a charitable project LCpl Strong would have approved of: PAX2PAX. This project supports Child's Play, childsplaycharity.org, which is dedicated to improving the lives of children through toys and games by fulfilling hospital wish lists and donating items to patients in order to create a positive experience from potentially unpleasant ones.
In an effort to raise $100,000 for Child's Play Charity in honor of LCpl Strong, Knight, along with two friends, will cycle across county from the Boston Penny Arcade Expo (PAX) to the Seattle PAX. Along the route, the team will stop and visit 24 children's hospitals. The goals of The Johnny Strong Charity Ride For Child's Play is to honor LCpl Strong's memory, to raise awareness and funds for the charity, to support Children's Hospitals across the country, and to inspire veterans to find ways to honor their fallen friends and seek guidance and assistance in dealing with grief and loss.
More information about the PAX2PAX project can be found on their website at http://pax2pax.org.  Donations in honor of LCpl Strong may be made through their donations page at: http://pax2pax.org/donations/.  All funds benefit Child's Play and kids in need. MAAF is sponsoring the trip itself at the $250 level, to enable the team to cover the expense of meals and supplies.  Please consider supporting this charitable venture to honor LCpl Johnny Strong; all donations are tax deductible.  You may track the riders during their journey, which begins April 11th, through their website and schedule.
edit: an earlier version of this article incorrectly stated that Knight founded Child's Play.