Profile: Navy RP Todd Kregel, Atheist Chaplain Assistant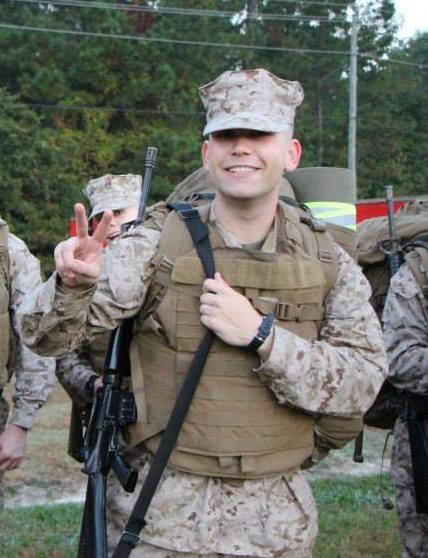 The MAAF membership includes a number of chaplain assistants. While the chaplaincy has not embraced humanists and other nontheists, we are working among chaplains already, and this is one story.
My name is Todd Kregel, and I am an atheist chaplain's assistant in the United States Navy. We go by "RP" Specialist for "Religious Programs" Specialist. I've been "godless" ever since before I graduated high school in 2006. I do tend to openly identify as a Humanist but at the end of the day you can't hide the reality of not having a religion or not believing that there is a personal creator God. People get confused on why I chose this rate ('rate' is Navy-speak for 'job'), but I genuinely love what I do. Like other RPs, I don't accept some religions as true, religion still interests me. I also think that ensuring that all military members have the ability to express their religious views openly is an important attribute to having and protecting the idea of "Being American".
I have only been at my first duty station for a month so my experience is limited but I can honestly say that I "believe" in what I do. Coming out and being honest about my own beliefs is the first step for me to gain acceptance for who I am. I do what I do because it takes understanding and I can be a "face" to show that negative perceptions about atheists and humanists are wrong. I have already crushed false assumptions in my immediate office, and I am hoping to do the same in the wider military community.
What does an atheist RP do then?
People often ask me "how can you be a Chaplain's Assistant if you aren't religious" they come into a conversation with me not really understanding what an RP does rather than something inherently negative. I normally explain that I may not agree with theistic religious beliefs but I do agree with free expression of religion. Some Christians may not agree with Islam but they still support others with very different beliefs.
RP work is important but also primarily administrative. Most days I clean the chapel from sanctuary to office. Most days I also help provide Marines and Sailors with information, counseling (which they get from the Chaplain… not me), or chapel space. I have developed a close relationship with some of the community outreach and family team building members. The Chaplain has his hands everywhere, and by default we RPs are also involved in everything.
Monday through Thursday (and Sunday of course) we have Catholic mass before lunch. We have a great Catholic community and they actually set up their own services. They are very involved and they help us (the RPs at the Chapel) immensely when it comes to facilitating Catholic activities. My main obligation is keeping track of the sacramental wine and maintaining the various vestments that are worn by the Chaplains and contractors. There is a little more work involved for the Protestant service on Sundays. During the week I take the bulletin that is prepared by the Chaplain and I create a PowerPoint presentation so the congregation can sing to the hymns. I also operate the sound system and slide show throughout the entire service.
The best thing about this job is that I get to witness first hand how people process information that relates to their most inner core. Religion is insanely important to a lot of people, and to be able to observe how it influences them makes me understand the wider world a little better. I came into the Navy with a M.S. in International Relations and I focused much of my studies on National Security and how Religion plays a role in a State's Democratization process. Having this rate really does open a wider world for me, and I enjoy it. Even so, I do not plan on making the RP work a career. I'm submitting an officer candidacy packet later this year.
Disclaimer: This website is not endorsed by the DoD or its affiliates. The statements made are of the individual's alone and do not reflect policy of DoD or its affiliates. This is a series of profiles showing the face of MAAF around the globe. In this installment, RP Todd Kregel shows an atheist supporting religious freedom as part of the chaplain corps.

 note: The previous listing of "Religious Professional" rather than "Religious Programs" was an error of the editor, not the RPSN Kregel.