Review: Reason's Fifth Dawning
Reason's Fifth Dawning, or R5D, was written by MAAF member and veteran (pseudonym) Alan Jeskin. Some may consider the 'downfall of religion' a negative, anti-religious topic, but the method is one of enlightenment not oppression.  Readers will be interested to see what about "religion" Jeskin's new society replaces rather than rejecting outright.  I wanted to highlight this as a rare novel that has gotten great reviews for its literary value, like the one below by MAAF member Greg Raelson. Fans of reason and humanism will enjoy the philosophy and cultural commentary, and everyone can enjoy the quality of writing. — MAAF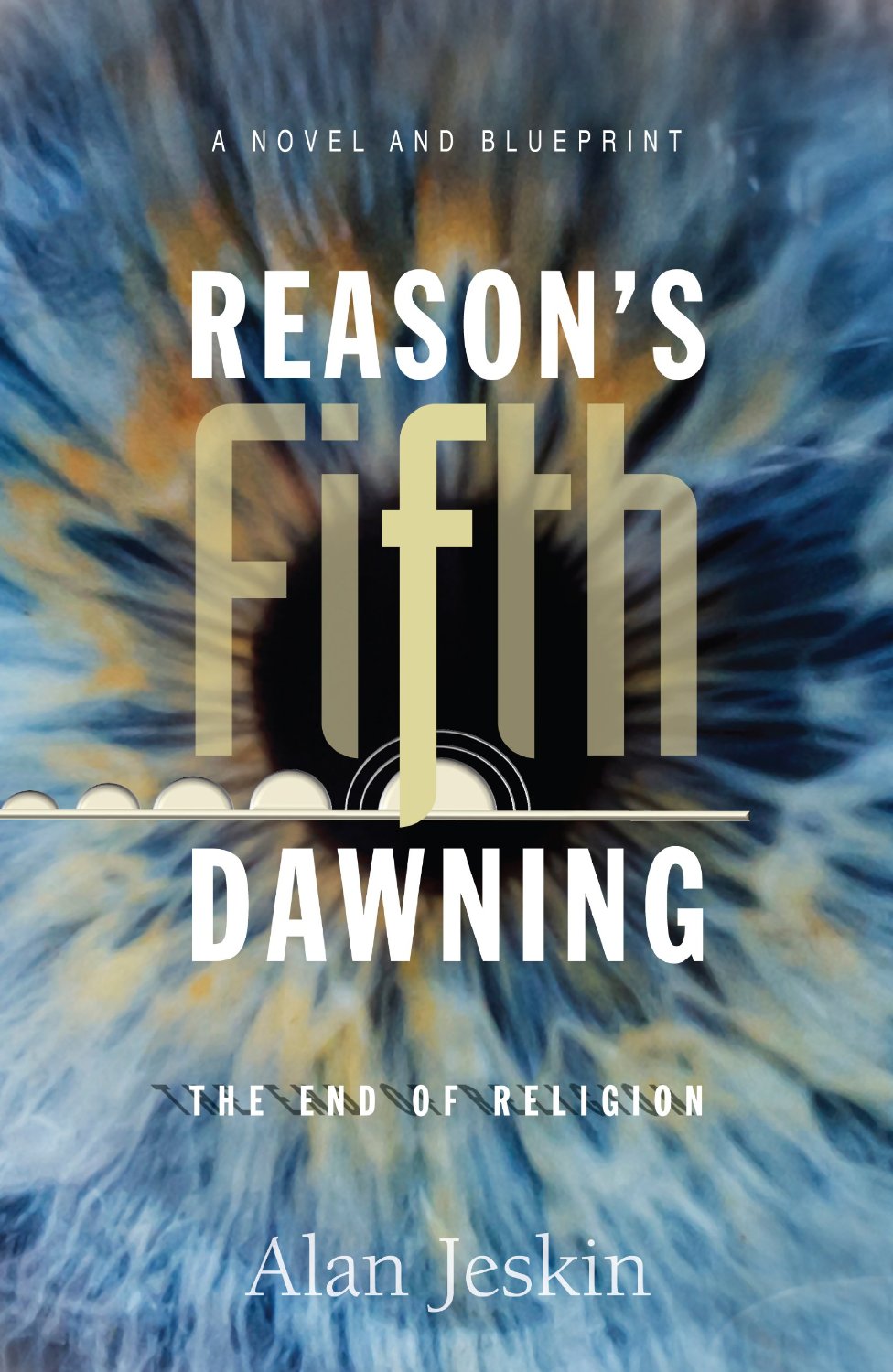 review by Guest Author Greg Raelson
First and foremost, and as a disclaimer, I am honored and privileged to have been able to provide critique and feedback to drafts of Reason's Fifth Dawning. I was a big fan of Alan's first book, a great non-fiction read called "Outgrowing God: Moving Beyond Religion", so I was quite interested in what he could do with a novel. He exceeded my wildest expectations. "Reason's Fifth Dawning" is a masterpiece. Alan is a brilliant writer and has crafted a thrilling story that will keep readers riveted to every page. From the opening sequence that puts you in the pilot's seat of a supersonic fighter jet (Alan was a fighter pilot so it's a first-hand account), through the final chapters that chronicle the tumultuous fall of religion around the world, the pace and intrigue never let up.
Also, if you are a rationalist of any kind you will find yourself cheering out loud at least once every other chapter. Alan creates an epic fifteen-year saga that chronicles the lives of four very different people whose lives converge after the 9/11 terrorist attacks. A fighter pilot, a hedge fund CEO, a televangelist, and an immigrant Pakistani student, all from different parts of the country, take paths that intersect in a way that ends religion as we know it.
Alan's characters and storyline are so intense and interesting that it's tough to put the book down. At the same time, they are so rich in detail and congruent with actual recent history that by the end of the book, the dismantling of one of humanity's oldest and most resilient institutions seems not only possible, but likely in the real world.
What readers may not discover until they read Alan's biography at the end of the book is that the remarkable story of one of the main characters, Eric Noble, is practically Alan's autobiography for the first half of the book. Like the real-life author, the character, Eric, is a nuclear submarine officer-turned-fighter pilot. He is also an unapologetic rationalist and humanist. Right after 9/11, Eric leads air strikes into Afghanistan and eventually retires as the commanding officer of an F/A-18 squadron. He then goes to Stanford Business School, works as an executive in the medical device industry, and writes a book called "Outgrowing God."
It's only beyond this point that Eric's story diverges from the author's. In the novel, Eric goes on to team up with a billionaire hedge fund CEO and a psychology professor to create a foundation dedicated to eliminating religious belief across the globe. SPOILER ALERT – they succeed! The real appeal of this book is the masterful way Alan creates a realistic and detailed plot that reads like a thrilling how-to-kill-religion manual. By the end of the book, the reader is left to wonder why a well-funded group of smart people hasn't done this in real life already.
Right out of the gate, with the hard-hitting prologue, it is clear that Alan intended this novel to not only entertain, but to call to action advocates of reason and humanism. He inspires the reader to do more than just wish that the world was a more rational place, but to insist on it and to fight for it. He creates an entertaining yet plausible battle plan to finally win the long-running struggle between faith and reason. He calls this book 'A Novel and Blueprint' for good reason. It is an exceptional effort at each, and I hope someday highly successful as both. This is one of the best novels I've ever read.
"Reason's Fifth Dawning" available in Kindle/Hardcover
"Outgrowing God" available in Kindle/Paperback
About the Author or Reason's Fifth Dawning: Alan Jeskin, the son of Liberian immigrants, earned a Bachelor of Science in Physics from Alma College and a Masters in Business Management from the Stanford Graduate School of Business. He is a member of Phi Beta Kappa Honor Society and American Mensa. Jeskin served twenty-one years in the United States Navy in the capacity of nuclear submarine officer and fighter pilot, earning numerous honors for valor and personal achievement , including five Navy Air Medals for flying more than seventy combat missions over Iraq and Afghanistan. He retired from the Navy at the rank of Commander after serving as commanding officer of a strike-fighter squadron. Following his military career, he worked as an executive in a Fortune 500 medical device company before turning his attention to writing.