Didn't Southern Baptists Just Resign as Military Chaplains?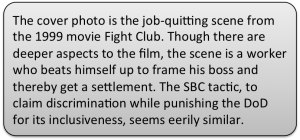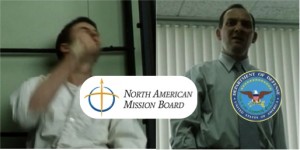 While Southern Baptists did not directly withdraw from chaplaincy, their recent policy letter essentially reads that their chaplains are now prohibited from performing many of their official military duties. The North American Mission Board, the endorsing agency for the Southern Baptist Convention, has issued policy to its chaplains in the wake continuing acceptance of gays and lesbians in the military. Their policy reads, essentially, that their chaplains are prohibited from engaging in programs or working with anyone who supports homosexuality or in providing counseling that does not label homosexuality shameful.
Read: chaplaincy_guidelines (downloaded from NAMB website 8/31/2013)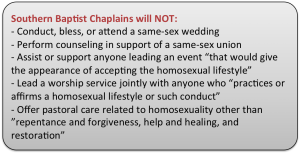 The document has four sections: Doctrine, Pastoral Care, Restrictions, and Pluralism. "Pluralism" is highlighted due to the requirement that all endorsing agencies to affirm that each chaplain they endorse is "willing to function in a pluralistic environment, as defined in this Instruction, and is willing to support directly and indirectly the free exercise of religion by all members of the Military Services, their family members, and other persons authorized to be served by the military chaplaincies." And that is what this is about: The new policy of the SBC says chaplains must refuse service to certain military personnel and their legally-recognized family members. Being now in conflict with the military chaplaincy regulation, the SBC and its chaplains seem to be in violation of the regulation.
This new policy is a clear challenge to the Department of Defense to execute appropriate separation actions for SBC chaplains (Section 6.5 of the Instruction includes an option for the chaplain to seek alternate endorsement and thus not be separated). The SBC policy is encouraging because it is an honest representation of the previous unwritten anti-gay stance of the SBC (see Chaplain Wagoner below), but is discouraging in that it does not take full responsibility and resign explicitly from a military chaplaincy they clearly do not wish to partake in. The policy as written may potentially be copied by other endorsing agencies who share the same view of scripture. If other agencies follow suit, potentially 50% of military chaplains may be affected. However, the SBC is the most well-funded and are more powerful in this context and therefore they are in the best position to take the lead in this activism. (The Catholics are well-funded but badly underrepresented in the military, while the SBC represents the largest Protestant denomination in the general population of the military.)
This is really a catch-22 for current SBC chaplains. They must defy military regulations and their duties or defy their denomination. They must either work with and for all service members without discrimination based on sexual orientation – or – they must avoid all cooperation even with those who affirm gays and lesbians. John Piper presented to the Southern Baptist conference of preachers in 2011 and said "women shouldn't be, in general, leaders of the men." Would SBC policy be accommodated if it restricted any cooperation with those who even approve of of women in leadership positions?
For those chaplains who agree with the policy, they will certainly be more comfortable outside the chaplaincy in a more traditional clergy role. For those chaplains who disagree with the new and clarified SBC policy, there are a number of welcoming Baptist denominations who I'm sure stand ready to affirm their faith and endorse their continued Baptist chaplain work outside the SBC and within the military. Chaplain (Colonel) Timothy Wagoner left the Southern Baptists after he was excoriated publicly for simply attending a same-gender wedding (before this policy was in explicit). Other SBC chaplains should prepare to walk that same road. Whatever the DoD decides, the SBC policy is clear and discriminatory and may run off some of its own chaplains.
The DoD will most likely wish to continue to ignore chaplain misconduct, but it will most likely not be possible in this case. Chaplains are closely aligned with family activities, relationship counseling, and marriage retreats. For example, the Army's flagship relationship counseling program "Strong Bonds" is explicitly chaplain-led. Each service similarly has also come to rely on its chaplains for family support. Anyone who understands chaplaincy will know that chaplains can not simply avoid same-gender couples. And the SBC has rejected all responsibility for such duties.
MAAF asked the Navy and Department of Defense the questions below as part of our long-standing policy in support of open service for all. The questions go straight to where the 'rubber meets the road' where chaplains will execute policy or try to create a 'separate but equal' discrimination between straight and same-gender couples.
What resources will the Chaplain Corps use to ensure marriage/relationship retreats based on gender-roles will be inclusive of same-gender couples?
Will Chaplains be allowed to decline to facilitate retreats with same-gender couples on the basis of religious opposition to same-gender relationships?
Must family readiness groups accept membership of same-gender couples?
Will chaplains using Navy facilities be restricted from giving sermons that denounce or question same-gender attraction or marriage?
If chaplains are given exceptions (e.g., question 2 and 4), what measures will be taken to ensure the straight-only nature of those events is made clear?
The DoD has declined thus far to respond to the inquiry, but hopefully they will investigate and put out their own clarification of chaplaincy duties to ALL personnel.
Current North American Mission Board Executive Director of Chaplaincy Services, former Chaplain Major General, and immediate past Army Chief of Chaplains provided this quote to Southern Baptist Press: "Our chaplains want to uphold the authority and relevancy of Scripture while continuing to serve in a very diverse setting. We believe these updated guidelines will help them do that while still sharing the love and the hope of Christ with everyone." (emphasis added) General Carver's comments show that evangelism is the first and last priority of SBC, and the new policy shows that discriminating against gays and lesbians is a close second priority, followed distantly by concern for supporting those with whom they serve.
This new policy, if enforced by SBC, calls directly for the Department of Defense to rescind the SBC authorization to endorse chaplains. Such a decision will lead to an exodus of some chaplains and a healthy re-endorsement of other chaplains in denominations more representative of their faith. Those chaplains concerned with serving troops will stay, and those concerned with serving themselves will leave. As with other human rights efforts and gay rights in particular, some will resist but we'll all be better in the long run.