Profile: Staff Sergeant Grace Greer
Disclaimer: This website is not endorsed by the DoD or its affiliates. The statements made are of the individual's alone and do not reflect policy of DoD or its affiliates. This is a series of profiles showing the face of MAAF around the globe. Grace talks about her values and passion as a humanist and coming out as a foxhole atheist.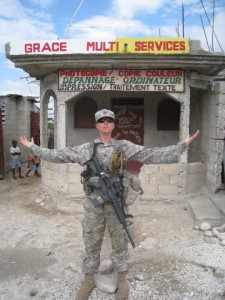 I am SSG Grace Greer and I have proudly served since 2002 in the United States Army Military Police Corps. I am a loud and boisterous character that is willing to stand up for whats right despite the fact no one wants to address it. My passion is my best quality by far, I am proud of my open mind, work ethic and commitment to my country.
My journey  as a Foxhole Atheist has not been an easy one. I didn't always even identify myself as an Atheist because I didn't want to be bombarded with the word of god nor was I prepared to explain it. I had a profound moment in WLC when the welfare of my 1059 (graduation certificate) was held over my head during a graduation practice. We were going over all of the key movements we would make in unison, stand up, sit down…..let us pray. I stayed at the position of attention, it caused the SGLs to question me and then insist that I crossed my arms in front of me and bowed my head just for "uniformity purposes".  Being young, uneducated and not fully prepared to defend my case I caved in for graduation practice. For the actual ceremony I stood tall and did not bow my head. I rightfully completed the course and earned that 1059.
Years later I became a Drill Sergeant. The prestigious position honestly changed stance on coming out as an Atheist. I felt responsible for the young Soldiers coming into the Army and knew that I needed to be the best example I could be. Beyond the hours of scheduled training I made the time to talk with the Soldiers about things that would provoke intelligent thought. As young MP's they would face a lot of situations so I tried to better prepare them by facilitating discussions.  Often I would play the devils advocate and get on topics of religion and politics. The point of the discussions weren't to prove who was right or wrong. They were to show the Soldiers that there was more than one option or viewpoint that was relevant and in order to be an effective leader you would have to exercise the options. I was very proud at the end of each 19 week MP OSUT class as I knew that I had fresh young minds going to work for my peers.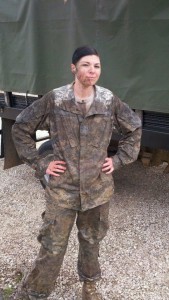 Of all of the tough times I had as a passionate and outspoken Atheist Drill Sergeant (which Jason Torpy is very familiar with) my favorite moment was the last graduation that I was present for. During the graduation practice the "let us pray" came up and I saw several Soldiers with their  head and eyes forward, sharply standing at the position of attention. One of my peers instructed them to bow their heads. A brave young Soldier confidently and respectfully explained that he understood his religious freedom and the Drill and Ceremony Field Manual, the position that everyone else was assuming was by choice and he was simply choosing not to do so. He was eloquent and polite and clearly conveyed his stance. I will always remember that moment.
Now, I am at Joint Base Lewis McChord and looking to create an alternative to the frequent prayer breakfasts and chaplain activities. I would like to find other Foxhole Atheists to assist in the mentoring and education of the future leaders of our military.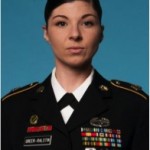 Good because I want to be,
SSG Greer