Military Atheists at Tinker AFB Lead Through Service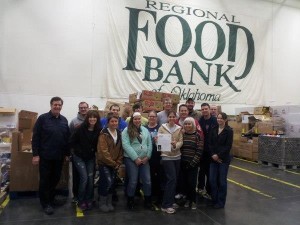 At Tinker Air Force Base, atheists and humanists are building a supportive community. They are doing so through service in the local community. Staff Sergeant Joseph Griffin is stationed at Tinker and wanted to meet with other nontheists like him. He contacted MAAF for support and direction and set up a group on Facebook. The group now has about 40 fans on Facebook and has defined itself through its service projects.
At the Oklahoma Regional Food Bank, members packed 26 boxes of food equivalent to 9,000 meals. Tinker MAAF plans to make this event a monthly activity on third Saturdays. The group has also chosen to volunteer at the Oklahoma City Animal Shelter in which we bathed animals, cleaned kennels, and exercised the dogs for the Shelters big adoption event.
The group also has fun together including a night of fun at a local billiards hall, and a super bowl party/BBQ. There are plans for a hiking trip on March 30th to Wichita Mountains Wildlife Refuge.
Tinker AFB MAAF is a chapter of the Military Association of Atheists & Freethinkers. This feature article follows up on the Christmas charity of MASH Hawaii, the holiday cheer at Travis AFB, and the new special forces focus group at Ft Bragg. The MAAF Network includes over 70 local leaders and groups around the world.