Hawaii Military Atheists Celebrate with Charity and Service
Across the military, atheists and humanists are reaching out to support their local communities. Hawaii MAAF Affiliate M*A*S*H* Hawaii with organizer Jacob Milich and lay leader Nick Stenkamp support Naval Station Pearl Harbor, Hickam AFB, Schofield Barracks, and Marine Corps Base Kaneohe Bay. They've shown their holiday spirit by doing a food drive for local homeless persons and a toy drive for Toys for Tots. These service activities along with their recent convention with Richard Dawkins are raising the bar for local community-building.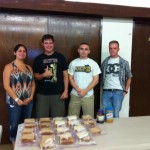 The success of this group also shows how a bit of chaplain support can make all the difference. M*A*S*H* Hawaii meets regularly in the Joint Base Pearl Harbor – Hickam chapel. Their November event to feed the homeless was held there. Group members brought food for peanut butter and jelly sandwiches, prepared the sandwiches and bags, and then went to hand out the sandwiches. Organizer Jacob Milich says the event was a great learning experience as well and he's got the knowledge to scale up the event for future food drives.
MAAF provides a special thank-you to the chaplain staff that is providing a location for meetings. That is one of the simple steps chaplains can take to reach out to the nontheist community.
In December, the group partnered with the Hawaii Secular Society to do a Toys for Tots fundraiser and holiday party.  About 20 people brought in 60 toys including legos, light sabers, stuffed animals, and dinosaurs. The event had a decidedly scientific bias with a microscope, chemistry set, Rubics cube, and paleontology kit joining the other toys. The toys were brought to a local Toys-R-Us drop-off station for donation and distribution. The coordination between civilian and military groups is a great example that local nontheist groups should always follow. Both communities need each other, and there is strength in numbers.
M*A*S*H* Hawaii joins many local groups in their focus on service. The Freethinkers at the US Air Force Academy recently conducted clean-up operations after the wildfires in Colorado Springs. Rock Beyond Belief and MASH at Ft Bragg raised over $1000 each for homeless veterans at the March 2012 event. As atheists and humanists are given a safe space to operate, acceptance for our beliefs, and equal support, we hope to spend our time and money on helping others.
All is not perfect, however. local members are seeking command support for military dental office and hallways adorned with "He is the Reason for the Season", John 3:16, a manger scene, and other attempts by the staff to proselytize patrons. The management at the location is reviewing the situation and has already made changes. We hope the local management will follow through with an internal resolution and that these sorts of simple fixes will replace the public scrutiny and legal investigations that have been required in the past.