Religious Intrusions Mar Army Suicide Stand-Down
Suicide rates in the US military exceed one per day. This has been identified by military leaders as a crisis requiring attention throughout the military. Last Thursday, there was an Army-wide "stand down" to focus on suicide prevention training. However, reports are coming in that chaplain-led sessions on 'resilience' showed a priority on religion, prayer, and "god's plan". These personal religious expressions may be appropriate in private, optional settings, but they have no place in mandatory settings and even violate the Army's own guidance that its "spiritual fitness" training be optional. Organizations like MAAF and American Atheists are advising soldiers to report issues to their command to see if the military can resolve these issues internally.
One example report received from an Army Sergeant in Ft Riley, Kansas said that a chaplain delivered suicide prevention training but also used it to promote his monotheistic view of the world with quotes like the ones below:
"There is a 'God's master plan' for you."
"If you focus on yourself, can you complete God's mission? No, you can not."
"If you fit into God's plan, then you will fit into the military plan."
"All authority comes from god. If you show obedience to God, you will start to show obedience to your chain of command."
"Fit into God's master plan and you will succeed."
"I know how to motivate myself: I pray to my god. I hope you pray to your god."
"Set your mind in front of God and you can help your friends and family"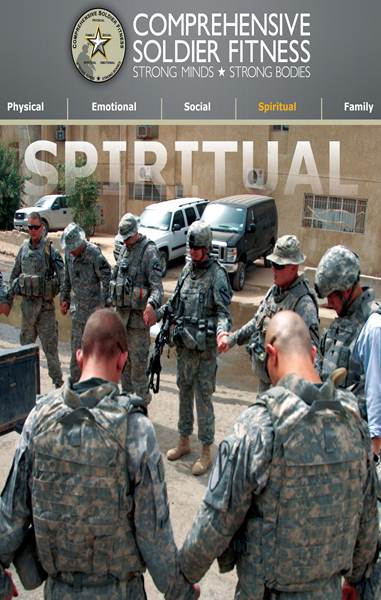 If these were in the local chapel or in an optional Christian or general religious setting, then they may have been appropriate. But in a mandatory briefing, they only serve to ostracize the nonreligious and give the appearance that the chain of command prefers theistic viewpoints and does not accommodate the nontheistic. RockBeyondBelief reports a similar incident at Ft Sam Houston, Texas, where another MAAF member, SSG Vicki Gettman recounts how she and 800 others were given a candlelight prayer during mandatory training:
Plastic candles were handed out. I was giving the chaplain the benefit of the doubt. His first few statements included having something bigger than yourself in your life and NEEDING something divine. I immediately turned around and stood by the front door of the theater. From there I could hear the mass prayer as they turned on the candles, shut off the lights and bowed their heads. The chaplain prayed to his heavenly father.
The candlelight vigil may be viewed as "just" a ceremonial prayer. Such ceremonial prayers are unfortunately added to military events day, with soldiers, sailors, airmen, and marines subjected to command-led prayer at mandatory events. But the inclusion of this prayer as a key part of a training event goes beyond the normal role of prayer as "decoration" on a ceremony. It shows that religion is creeping more and more out of personal activities and into command-directed training programs.
Again we find suicide prevention and resiliency training confused with a prayer session. The Army says "Shoulder to Shoulder, no soldier stands alone." But nontheists feel very alone and vulnerable when suddenly part of a command-led, mandatory prayer event. The Army, breaking from Navy and Air Force policy, has unfortunately condones sectarian prayer at mandatory events. This discriminatory policy has gone overlooked. However, the Army did declare "Spiritual Dimension [modules] are completely voluntary." By making the training optional, the Army recognized that "spirituality" is a concept not fit to all soldiers. Rather than partnering with MAAF and other nontheist organizations to help fit the spiritual dimension training to nontheists, the Army opted to continue to spend millions on training that would do more harm than good to nontheists. Chaplains, despite being intended primarily for religious services, are the first-line for risk management, marriage counseling, and other non-religious duties. And the issues during the suicide stand-down show that the "optional" approach will not work and that trainers and training materials must be expanded in scope to include nontheists and to ensure that "spiritual fitness" does not become a proxy for promotion of religion.

The Army should act quickly and decisively to denounce the co-opting of suicide prevention and resiliency training for promotion of religion. They should survey their Resiliency trainers, especially chaplains, about what level of religion they feel is appropriate. Those using resiliency training for mandatory prayer and god-focused solutions should be retrained to emphasize that spirituality is optional until it reengineered to be appropriate for everyone. Commands should be surveyed to ask what materials are available specifically for atheists and humanists. If the military wants to provide for beliefs, they should first avoid promoting one type of beliefs over any other, which means they should ensure that all beliefs are equally represented (ie, less for some and more for others). This means, more than anything, that the Army's Comprehensive Soldier Fitness office and suicide prevention program directors should be contacting MAAF and other representatives of the atheist and humanist community to collaborate on future training development and reform of existing training programs. By taking these actions, the Army can show the incidents of religious bias last Thursday were exceptions to rather than expressions of command religious climate.
edit 10/4: ChristianPost.com published an article titled "Atheists Ask Military to Drop 'Religious Expressions' in Suicide Prevention Briefings". MAAF would like to clarify that the issue is with "personal religious expressions." References to religion and even encouragement of personal religious practices according to the conscience of the individual may be appropriate for some training. The objection in this article is that personal religious expressions from trainers should not be mixed into official training programs and the Army's own guidance requires all "spiritual fitness" training to be optional. Providing more recognition and inclusion of nontheistic beliefs is necessary to offset the excessive emphasis on god-based religious beliefs. Minor typographical corrections were also made.